Multi-Partner Collaborations and Advisory Services
The China Greentech Initiative (CGTI) helps companies address specific opportunities in China. With its in-depth greentech industry knowledge, extensive network of commercial and governmental relationships, and strategic research capabilities, CGTI delivers insights, analytics, and opportunities that help companies accelerate the growth of their greentech businesses in China. Specific services include:
Advisory Services
CGTI's Advisory Services provide Partner companies and organizations with tailored projects to meet specific needs that are beyond the scope of what the Partner Program provides. CGTI's Advisory Services include:
Custom Strategic Market Studies - Answer opportunity-specific questions Partners have related to market size, user requirements, value chain structure and economics, competitor and partner assessments, technology evaluations, and the legal/regulatory environment.
Partner Matchmaking - Assist Partners with the identification and assessment of potential business relationships, and provide referrals for financing sources, investments and M&A transactions.
Custom Thought Leadership and Education - Develop and tailor external publications and education programs that meet specific Partner branding and stakeholder education objectives.
These services are designed to be complementary to corporate development, PE and VC firms, investment banks, law firms, and full-service consulting firms. For more information, please contact us directly to discuss.
Advisory Services Case Studies
IBM Energy & Utilities
2020: Transforming China's Electric Power Future
Enabling Low Carbon Energy and Empowering Customers for Sustainable Growth
CGTI developed IBM's strategic framework to address China's energy and environmental challenges as well as commercial opportunities between now and 2020. With a focus on technology and innovation's role in the transformation of China's energy system, CGTI helped IBM identify the critical drivers for change and predicted response of key government and commercial stakeholders. Download the English and Chinese versions of "2020: Transforming China's Electric Power Future" below.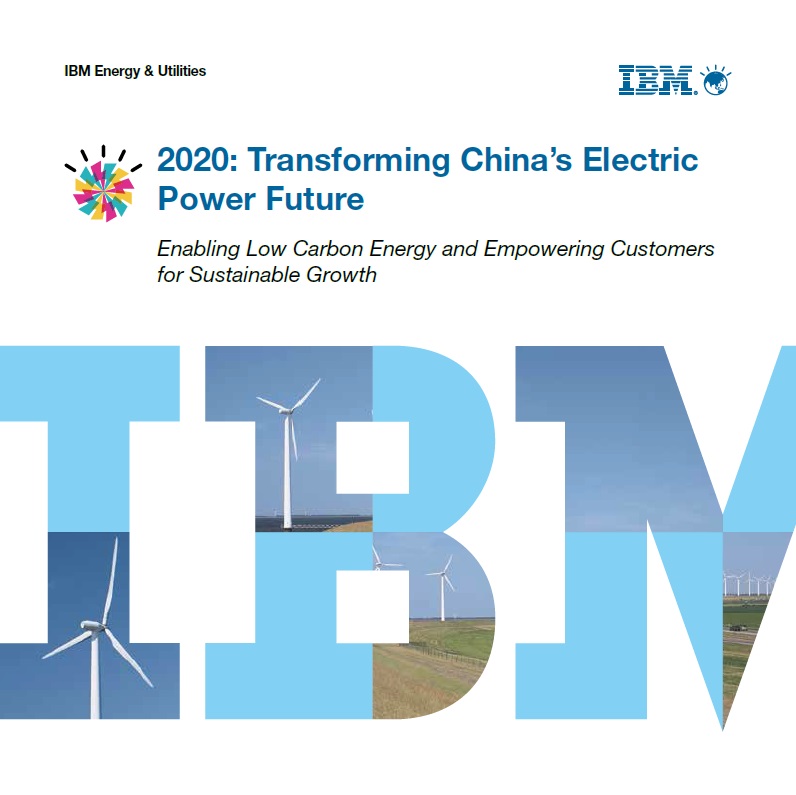 Download 2020: Transforming China's Electric Power Future (English) here.
To request more information on retaining CGTI's Advisory Services, please email CGTI@china-greentech.com
下载 "2020:中国未来电力大转型 - 中文版本" 请点击.
欲更多了解中国绿色科技的咨询顾问服务,请发送邮件至 CGT@china-greentech.com